Feature Image: Sonja Nell, Owner & Founder of the Gurmuki Footwear Brand
Written by: Tershia de Klerk
Date: 18 May 2022
Your Gurmuki shoes companions are proudly South African and although South Africans are very adaptableJ, they still need some TLC. These hand crafted sheepskin wool Tribal Boots, UGG-style boots, vellies for women and for men, sheepskin sheep's wool slippers and KUDU leather boots, will be lifelong companions. With TLC they can remain as attractive as the day you met.
Because Gurmuki Footwear's  shoes brand products are made of natural materials, they require specific care. Just like our own skin, leather requires cleaning, moisturisation, brushing and protection. The various kinds of leather, require various kinds of care.
Use water-based products rather than oil-based as water-based is good for hydrating leather fibres, cleaning and can be used on a wider range of leather types.
With regards to tools/utensils, it is best to use harder/synthetic bristles on suede/nubuck, and softer bristles on your smooth leathers.
Cleaning of all leather-types of Gurmuki footwear: Apply leather cleanser on a microfiber cloth and use it all around the shoe/boot to clean it properly. It is then important to allow it to dry naturally.
Important Tip: Always spot test any new product you are using on a hidden area of the footwear.
Conditioning and protecting smooth leather footwear: Use protector cream and apply it to a soft brush (horse hair brushes are considered the best) and then apply to the footwear, in circular movements. Ensure that the entire handmade leather shoe/boot it covered. Do this for approximately 30 seconds to ensure proper absorption all around.
To polish your smooth leather Gurmuki footwear shoes brand's Products afterwards (if you so wish), use a clean horse hair brush. Remove any excess protector cream until smooth. Then gently buff the shoe with a clean microfiber cloth. The polish helps moisturise the leather while adding a layer of protection against dust and water. It also restores colour and hides scuff marks. You can decide between wax or cream polish.
Cream polish is more moisturising than wax, and it creates a natural finish. Wax polish offers slightly better protection and a higher level of shine, but it can be more drying. We suggest a cream polish to help retain the character of the Gurmukis.
Conditioning and protecting suede/nubuck leather footwear: Ensure they have dried properly after the cleaning process. Then use a rubber eraser or suede eraser, to rub out any marks. Brush with a synthetic brush and ensure that all the little "hairs" are brushed in the same direction.
Protect your suede/nubuck footwear with a water/dirt repellent sealing protector, which can be sprayed all over the shoe/boot. Gently pat off any excess product.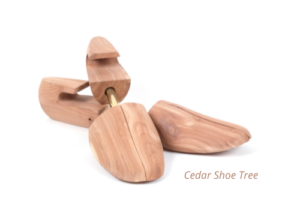 Important Tip: It is always best to allow your footwear to dry naturally, and preferably overnight. Direct heat can cause damage to leather.
Cedar or poplar shoe trees, are unusual, but very effective shoe care tools. They help to air your footwear by absorbing moisture and odour, and it is a great tool to retain the shape of your shoe/boot.
Important Tip: If you have any liquid stain on your suede/nubuck, do not try to rub it out. It may make it worse by spreading the liquid. Rather try dabbing off the excess liquid. Wait for the footwear to dry and then use a specialised stain remover or rubber.
Gurmuki's Shoes Brand, whether it's the Sheepskin Wool Tribal Boot, The UGG-style Boots, Genuine Leather Cape Vellies or any of the other Handmade Leather Shoes, this footwear is made to last. Take care of it and it will keep you trendy, no matter the latest fashion.
Enjoy your Gurmuki Footwear companions.
Become a Gurmuki Shoe Owner – Shop Here.